An article called "Hiroshima" written by John Hersey was published in The New Yorker magazine in August 1946, a year after World War II ended. The article was based on interviews with atomic bomb survivors and tells their experiences the morning of the blast and for the next few days and weeks. It was a calm and accurate account of survival in the first city to be destroyed by a single weapon.
There were many remarkable things about the "Hiroshoma" article. Just a few:

"Hiroshima" took over the entire issue of the The New Yorker, there were no articles or cartoons.
The issue caused a tremendous effect, and sold out within hours.
Many magazines and newspapers commented on the article.
The full text was read on the radio in the U.S. and other countries.
The Book-of-the-Month club sent a free copy in book form to all its members.
"Hiroshima" was quickly published as a book, and remains in print today.
---
I spent a few weeks working on a term paper about the publication of "Hiroshima" for my one-and-only graduate level liberal arts course (in 1997) and wanted to make my research available to all who are interested (all 53 of you, that is). My paper discusses the events leading up to the publication of the article, what happened afterwards, and the effects of the article.
Read the original article, published online by The New Yorker: Hiroshima.
Read my paper, The Publication of Hersey's "Hiroshima" in The New Yorker.
Read about John Hersey online.
If you have found my paper useful (as a student or teacher) please let me know.
I've gotten nice notes from folks associated with the following institutions:
Alb-Gymnasium (Bopfingen, Germany), American School of Rio de Janeiro (Brazil), Arizona Lutheran Academy, Bay Shore High School (New York), Berkner High School (Texas), Birmingham Groves High School (Michigan), Cantebury School (Florida), Carleton University (Canada), Chinese University of Hong Kong, Colonia High School (New Jersey), Columbia State Community College (Tennessee), Columbia University (New York), Complutense University of Madrid (Spain), Churchlands Senior High School (Australia), Delta College (Michigan), Fordham Prep (New York), George Mason University (Washington, D.C.), Georgetown University (Washington, D.C.), Georgia Southern University (Georgia), Haddonfield Memorial High School (New Jersey), Hancock County High School, (Kentucky), Harvard University (Massachusetts), Headstart School (Pakistan), Holy Family University (Pennsylvania), Hudson Valley Community College (New York), International High School Eastern Seaboard (Thailand), James Madison University (Virginia), John Abbott College (Montreal), Johnson and Wales University (Rhode Island), Kent State University (Ohio), Lady Manners Comprehensive School (England), Lamar University (Texas), Long Island University (New York), Lyman Hall High School (Connecticut), Lyon University (France), McEachern High School (Georgia), Mary Persons High School (Georgia), Marymount (Mexico), McGill University (Montreal), Milligan College (Tennessee), MLC School Burwood, Sydney (Australia), Musashino University (Japan), New York University, Northern Virginia Community College, Northglenn High School (Colorado), Northwestern University (Illinois), Notre Dame Academy (Georgia), Nova Scotia Community College (Canada), Oak Park High School (California), Ohio State University (Ohio), Old Dominion University (Virginia), Palms Middle School (California), Parkersburg High School (West Virginia), Portsmouth University (UK), RMIT University (Australia), Saint Charles High School (Michigan), Saint Joseph's University (Pennsylvania), Sam Houston State University (Texas), Saugatuck Jr/Sr High School (Michigan), Southern Utah University, State University of New York, Sunway College (Kuala Lumpur), Texas Christian University, Tyngsboro Middle School (Massachusetts), University of Århus (Denmark), University of California (Berkeley), University of California (Santa Cruz), University of Houston (Texas), University of Illinois at Chicago, University of Kentucky, University of King's College (Nova Scotia, Canada), University of Missouri, University of Nebraska, University of Otago (New Zealand), University of Pennsylvania, University of Pittsburgh (Pennsylvania), University of Rochester (New York), University of Southern Mississippi, University of Sydney (Australia), University of the Virgin Islands, University of Virginia, Ventura High School (California), Warwick University (UK), Woodburn High School (Oregon)
Also many kind notes from people who haven't mentioned any academic affiliation - thanks everyone.
---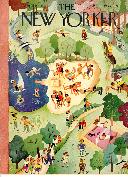 Some Related Links
Comprehensive Hersey obituary in Yale Alumni magazine.
Some teaching resources for secondary school teachers.
You can see the first page of the article. Click the page image to enlarge it. (Thanks, CH, and thanks to your wife too!)
Carol Meyerson is a John Hersey book collector.
In February 1999, NYU's journalism department published a list of the "Top 100 Works of Journalism in the United States in the 20th Century." 'Hiroshima' places first.
Another American journalist, George Weller, visited Nagasaki in September 1945, just a few weeks after the second atomic bomb had been dropped there. He filed detailed stories about what he saw there, but the articles were censored by the American military. More info at the Wikipedia entry First Into Nagasaki.
In 2012 (15 years after doing my paper) I learned from a scholar in Spain that a remarkably similar paper had been published in 1974 by a historian named Michael J. Yavenditti in The Pacific Historical Review. The article is available via jstor.org at http://www.jstor.org/stable/3637589?origin=JSTOR-pdf&. If you are doing serious research on this topic you probably need to get this paper. I didn't have access to this article when I was putting together my stuff but it's clear from a quick review that we used a lot of the same sources.
---
Books
Hiroshima by John Hersey
others by John Hersey
A Bell for Adano
about John Hersey
John Hersey Revisited by David Sanders

The Survival Tales of John Hersey by Nancy L. Huse
about Hiroshima
Hiroshima Notes by Kenzaburo Oe
about The New Yorker
Genius in Disguise: Harold Ross of The New Yorker by Thomas Kunkel

Here at the New Yorker By Brendan Gill
about US Culture in the 40's
By the Bomb's Early Light: American Thought and Culture at the Dawn of the Atomic Age by Paul S. Boyer

The Decision to Use the Atomic Bomb by Gar Alperovitz, et al.
other books
City of Seven Rivers a historical novel by William P. Bekkala (partly based on research from this site).